In his previous life, Pierre Bessard has worked as a photo-reporter for the Agence France Presse (AFP) as well as the press agency REA. He was also in charge of the photographic service in the French magazine VSD and directed documentaries for CAPA/ARTE. Familiar with Korea where he conducted several photographic surveys, he finally embarked upon a journey to China with his wife and children in 2008. Few years later in 2011, Bessard launched his own eponymous independent-publishing house based in Paris.
Bessard only works with ground-breaking artists, writers and curators, and supports challenging projects in book form by creating graphically unconventional artists limited editions. More than a simple publisher, he is a "fire-horse in constant motion" – as he describes himself – with a colourful personality. Qualities that enabled him to have established his publishing house as one of the leading in the field today. Although Bessard Editions has never applied to any grant or prize, the publishing house has already been rewarded internationally and included in authoritative publications. Such as Max Pam's "Ramadan in Yemen", cited in Martin Parr and Gerry Badger's "The Photobook: A History" (London: Phaidon, 2004), and Bessard's "Chattanooga the Green factory", which was nominated at the TDC-Typography as one of the best in Typography and Design among 3289 books in competition (Tokyo: AZUR Corporation, 2013).
How would you describe your work as a publisher?
Aesthete and precursor, Bessard Editions' goal is to slide the world of photography into different prisms: novelty and originality, passion and excellence. This requires openness to the world, and permanent intellectual curiosity. We live in a hyper-communicating and hyper-connected society. We need to be receptive, to observe, in order to develop new ideas. My role is precisely to synthetize all the information, the exchange coming from various sources, whether they relate to the technological, cultural, and critical amongst other fields.
This publishing house intends to rethink the book format, to assert a savoir-faire, and to explore all facets of creativity, including design, art, typography, graphic design, bookbinding, and so forth. It reflects harmony, extravagance, inspiration, and passion. It is my role as a publisher to promote such values. In order to do so, I travel a lot and everywhere with the intention of picking tendencies. I am equally interested in emerging and established artists, and many of those with whom I have collaborated with have published their first publication thanks to the Editions Bessard.
Alongside my work as a publisher, I also have other activities. I frequently give papers in conferences around the world in order to discuss the production of photo–books in more detail. As compared to other publishers, I would say I am closer to poetry than prose. Besides, I also have launched an artist residency in Beijing in partnership with the Rosewood Hotel. I invite artists to spend up to 15 days in a luxury hotel where food and accommodation are provided gratuitously. Thus far four photographers came and have worked – or are still working – on the publication of their adventures in China. For instance, Pieter Hugo's "Flat Noodle Soup Talk" is the fruit of this residency in Beijing. It was the first time that he photographed outside Africa. He had the opportunity to work with Chinese people and to enter into the heart of Chinese society. The other photographers who completed this residency are the South-African photographer Guy Tillim, the Brazilian artist Claudia Jaguaribe, and the British photographer Michael Kenna who will come back next March 2017. I also co-organised performances and conferences with the Three Shadows Photography Art Centre in Beijing.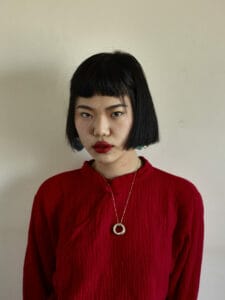 Please introduce the various book collections you provide.
I have first started with the "Zine" Collection, which is a synthesis of what I saw in the 1970s in Japan and in the USA. The objective was to maintain the simplicity of execution while reworking it at the same time. Each volume is made of Fedrigoni paper, which is amongst the oldest paper manufacturers (1717). They necessitated manual work, such as assembling butterfly clips, and adding embossing seals with the editions' logo. There are in total 27 volumes limited to 300 editions each. All comprise one signed print of a limited edition. They are almost all sold out now. I decided to publish only 27 volumes because it gives you the possibility to renew things, to keep your audience on track. Most importantly, it allowed me to build a strong, functional professional network around the world.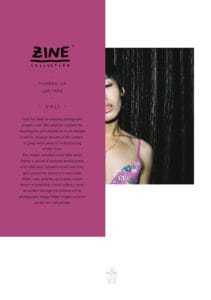 Then in 2015 I launched the "Bespoke" series, which are hardcover publications still focusing on one single artist each time. « In Hoc Libra Vinces » is the new concept [informed by the original Latin phrase In hoc signo vinces that means "In this sign you will conquer"], which is accompanied by the symbol of a Dragon and the letter "B" standing for "Bessard". These are beautifully crafted books, using off set printing, and include also an original and signed print inside. I am planning to publish around 20 Bespoke books, and then as usual I will start something new.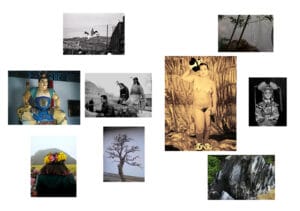 The "Guest Stars" publications are those published by other publishing houses, which I wanted to promote for the quality of the book design and the artist showcased. It should be noted that I don't work with a unique printer: depending on the project I will get in touch with a specific printer based in China or Italy for instance. These books are chiefly available through my website. I rarely distribute them in bookshops because I believe booksellers have to deserve authors. In other words, I have emphasised on the direct relationship with the customers, who can be based in France, Germany, Japan, USA, amongst other countries.
A fair number of the monographs you have published introduce Chinese artists, such as « This Face » by Xu Yong, « The brightest light runs too fast » by Ren Hang, « Hidden Track » by Lin Zhipeng, « History of Monuments » by Wang Qingsong, « Sample Room » and « Three Years » by Chen Jiagang, « Mengxi » by Wei Bi, and « The critical conditions of my… » by Han Lei. What is your relationship with contemporary photography in China?
Firstly I have lived in China many years, I love this country, its cuisine, its culture, its teas, its furniture, all of it. I always get in touch with the artist I am interested in. My "eye" guided me thus far. I usually meet them when I am in China; otherwise they come to visit me in Paris. I also have a personal collection of contemporary and vintage photographs of China. For instance, the owners of the Beijing-based White Night Studio (白夜照相馆, created by Yang Wei 杨威 and Wang Xu 王旭) help me acquire vintage prints from the 1950-60s. In this regard, we are planning to publish reproductions of these types of old photographic albums.

Portrait of Yang Wei and Wang Xu, founders of the White Night Studio
In regards to contemporary Chinese artists, in some cases I purchase their camera once the book is done, in other cases they offer me original negatives, prints, or even objects. For instance, I possess Philippe Herbet's 6×6 Rolleiflex, Hester Scheurwater and Max Pam's camera, 223 promised to give me his camera too. In a similar fashion I suggested to Ren Hang to buy his camera: we went for a walk together, he took several pictures, rewound the film, and gave it to me.
I was the first to publish a fair number of these Chinese contemporary artists, such as Zhu Mo and No.223 [Lin Zhipeng]. I was amongst the first in the West to promote Ren Hang's works through a book that comes with a thermal cover which only appears at higher temperatures [in order to bypass Chinese censorship]. Ren Hang is about to be published by Taschen, and I am very proud to have supported him thus far.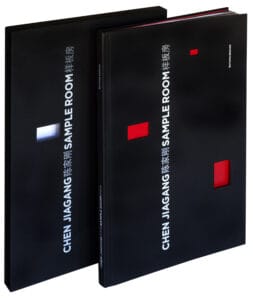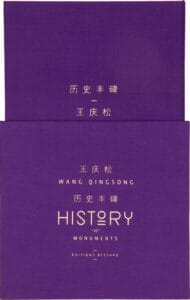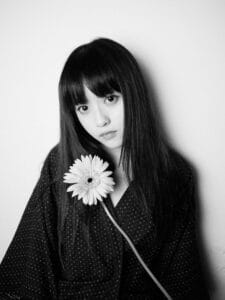 Tell me more about your graphic design standpoint.
Each book is created by a different graphic designer so as to explore a specific graphic universe each time. It reflects my interest in creativity. Since my childhood, I have been creating paintings, collages, films, and photographs, I visited countless museums and have a collection of over 5000 books at home.
In truth I have collaborated several times with Ramon Pez [an award-winning art director with almost a decade of experience in magazine direction, book-making, exhibition design and illustration]. We made Ren Hang's monograph together to cite one example. We met in 2012. At that time, I selected Cristina De Middel's "Afronauts" as one of the best photo-books of the year, and it happened to be designed by Ramon Pez. Since then, we have collaborated on several publications. I was the first official publisher with whom he worked with. We get along very well and he has free rein on the book design.
What interest me the most is how a book is conceived and structured, how images connect with one another. I like the idea to structure a book like a movie; images are selected not necessarily for their formal aspects but rather because they create a meaningful visual narrative. Each time we try to think outside the box, to push boundaries further. When one looks at all the books I have published thus far, one would realize that all have differing look, design, typeface, paper, narration, and structure. The typefaces I have been utilizing are all original creation by typographers. I am informed by several Professors for typeface design, who advise me about the history of typeface, its political, cultural and social impact. The goal is to produce publications that go beyond the anecdotic, and instead create something that is beautiful and meaningful.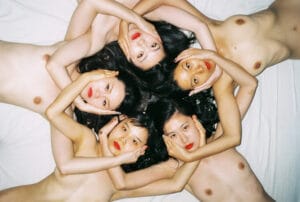 Several years ago, you produced your own photographic surveys ("Journal de Chine", "Wuhan boiler company workers", "Behind China's Growth"). Are you still interested in doing this?
Of course. I am currently preparing a project on North Korea, on the one hand it will chronicle a story addressing a period between 1945 and 2002, on the other I will include a 15 days diary that will be populated with photographs, collages, paintings, and texts of my own. Each page represents one day, in which the juxtaposition of image and text tells a specific story. I have adopted an historical approach. In fact in the course of my multiple travels to Korea (over 20), I have brought back countless records. I was one of the rare Westerners to have the chance to meet Kim Il-sung several times and to photograph him when he was still alive. I even transmitted the first ever photo-telegraphy from North Korea to Hong Kong back then. On another note, I am very proud because "Wuhan boiler company workers" is included in the authoritative Martin Parr's publication entitled "The Chinese Photobook: From the 1900s to the Present" (New York: Aperture, 2015).

If you were not a publisher, what would you be?
Everyone told me the same thing and I quite agree: rentier [laugh]. I have the feeling that I have never properly worked in my life because I have never been a subordinate of superior managers whatsoever.
What's next for the Editions Bessard?
There are several projects I am currently working on. I have several ongoing books, including "Idissey" by Stéfano De Luigi, "KaBoom" by Andrea Botto, and others in collaboration with Joan Fontcuberta, Mariken Wessels, and Rob Hornstra to name only a few. I am preparing another volume on the Chinese Xu Yong with whom we are selecting exclusive images from his "Negatives" series. I am working on a photo-book on the notorious refugee camp in Calais (France). In addition, we are preparing a comic book on North Korea with Ramon Pez. I am also planning to release soon a book that examines a French 3-star Michelin Chef through unusual photographs taken by the Italian artist Carmen Mitrotta. I have scrutinized food photography the last three years, and she made the difference. I am hoping to continue the artist residencies in Beijing. I am developing ties with universities, galleries as well as with a famous luxury brand. My next goal is to be able to reach a larger audience, to expand outside the realm of specialists.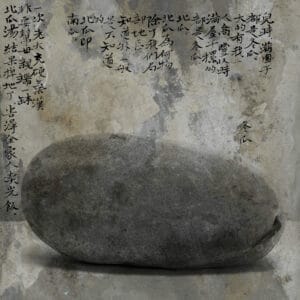 BY MARINE CABOS Here the link: http://photographyofchina.com/blog/interview-pierre-bessard